What's New September 2016
Welcome to the September 2016 Update. For the month of September, our development team has prepared these new enhancements that we hope will help propel everyone into another productive fall season! We've had a crazy busy start by adding a host of new labs, be sure to check them out listed further down.
New feature for Practices and Labs:

EasyComments

Practices: Add a Time Needed option when creating Rxs

Practices: User Accounts can now be configured to

enable or disable ability to edit/add templates


On Scripts Page - Search now searches ALL cases by default




Event Notifications / Recent Alerts page now includes Date Range filter




New Parts and Appliances added: Hang Expanser, Biobloc, Intrusion TPA, Lingual Sheath


Existing part enhancement: Hanging Clasp part name corrected to Hang Clasp




Headgear Tubes can now be placed on the 4 and 5s, in addition to the 6s and 7s.




Flip Lock Type 2 (Herbst) can now be repositioned to eliminate Lower Linger Holding Arches from the 6s.




New EasyRx Connected Labs! Olympic Orthodontic Lab, Dobson Orthodontic Lab, Orthotek Inc., Parks Dental Lab, Summers Dental Lab, Clear Advantage Dental Lab (CADL).

Next Update Note

:

We've scheduled the next EasyRx update for

November. We've started a rather large project to revamp our Indirect Bonding and Aligner Prescriptions. To get these features ready to go, we'll need more than one month. Remember, we always welcome your feedback so if your practice or lab wants to request a feature or provide feedback, email us at

support@easyrxortho.com

New Feature: EasyComments
We've added a supernacular new feature called

EasyComments

that is available to both Practices and Labs. You can now create and use pre-defined comments that you can instantly add to a prescription. This will allow you to quickly add any notes or important instructions to a prescription without needing to re-type it each time. Labs can likewise use this to quickly communicate important notes to a practice regarding an Rx or even add instructions for the lab tech.


We wanted to make EasyComments simple to use from within the Comment screen. From the Comment screen, you can
Show or Hide EasyComments




Add a new EasyComment




Edit an existing EasyComment





Add a new EasyComment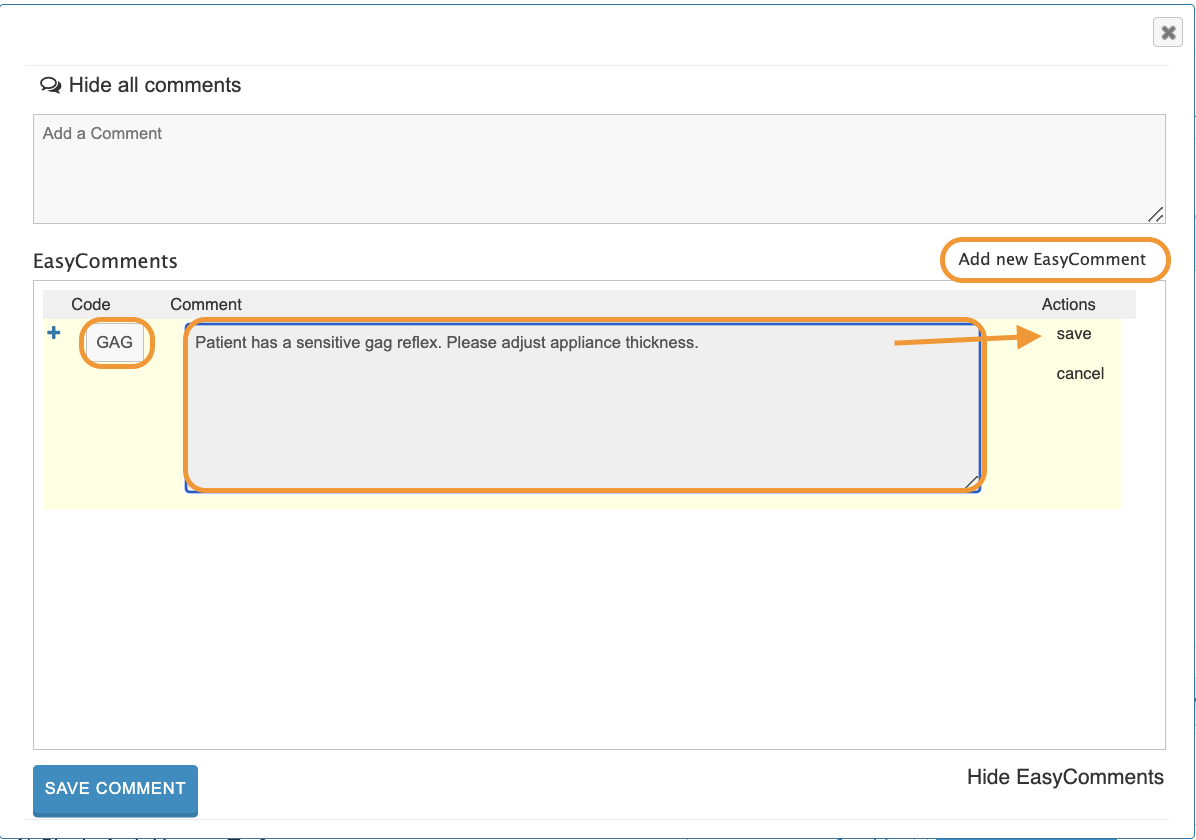 Click [Add new EasyComment]

to add a new pre-defined EasyComment.

Enter the Code and Comment. The Code is an internal code you can use for reference and can also be entered when creating a new Comment. The code can be any combination of numbers or characters.


When finished, choose [Save] to save or [Cancel] to cancel. Once saved, the new comments show in your list of EasyComments. Click [edit] to edit an EasyComment.

Using EasyComments.
There are two ways to add an EasyComment to a prescription comment.

From the list
Click on the [+] next in the EasyComments list. This enters the EasyComment into the Comment window. Edit or add additional comments as needed.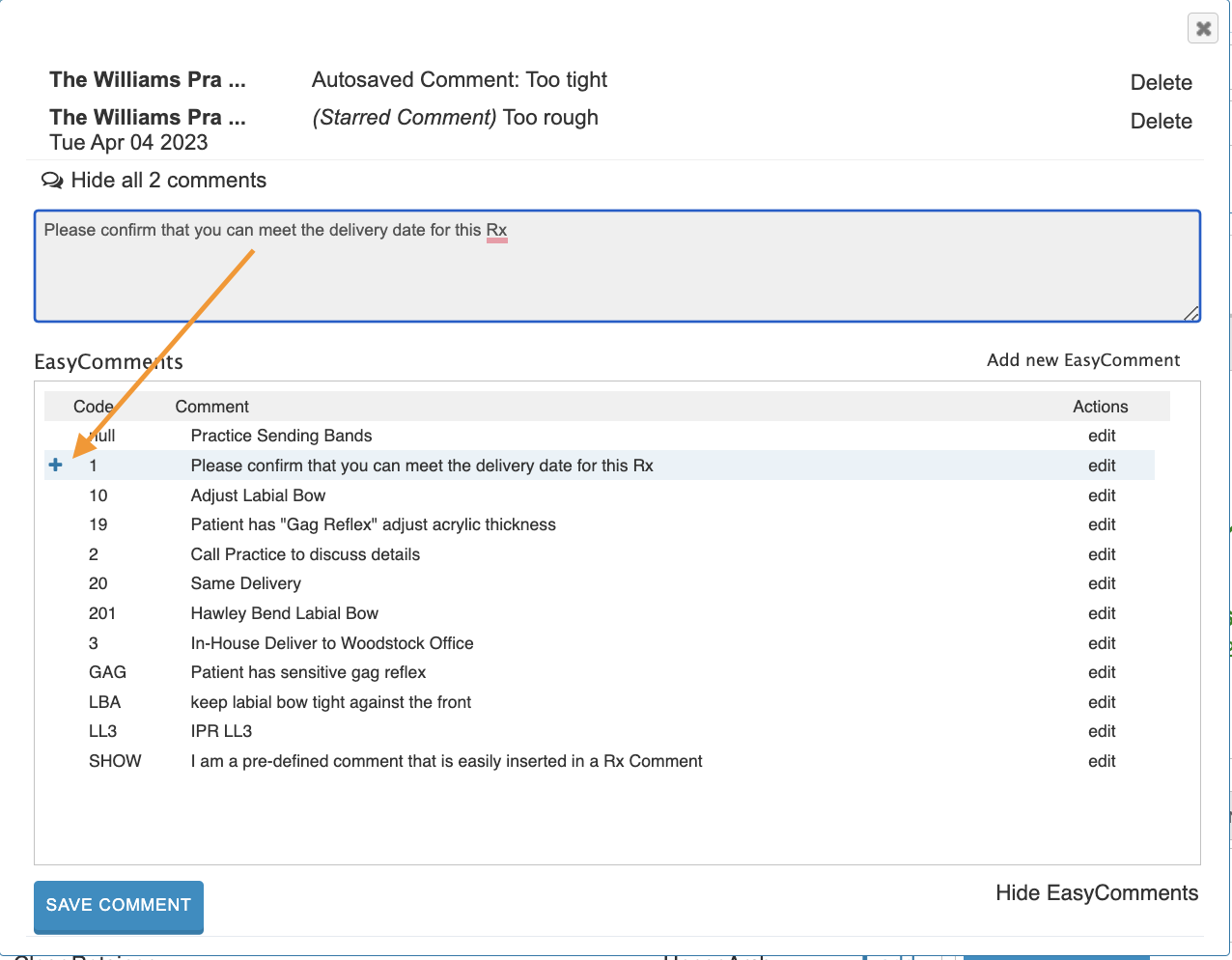 Typing
When typing a comment, enter [+] and the shortcode to quickly enter it onto the Rx. For example, in this screenshot, LBA is the short code, +LBA has been entered, and the full comment, "keep labial bow tight to the front will be entered in the comment"
You can type in or delete any info to the Comment before you save it. Once it looks good, you can click [Save], and it will add that comment to the prescription.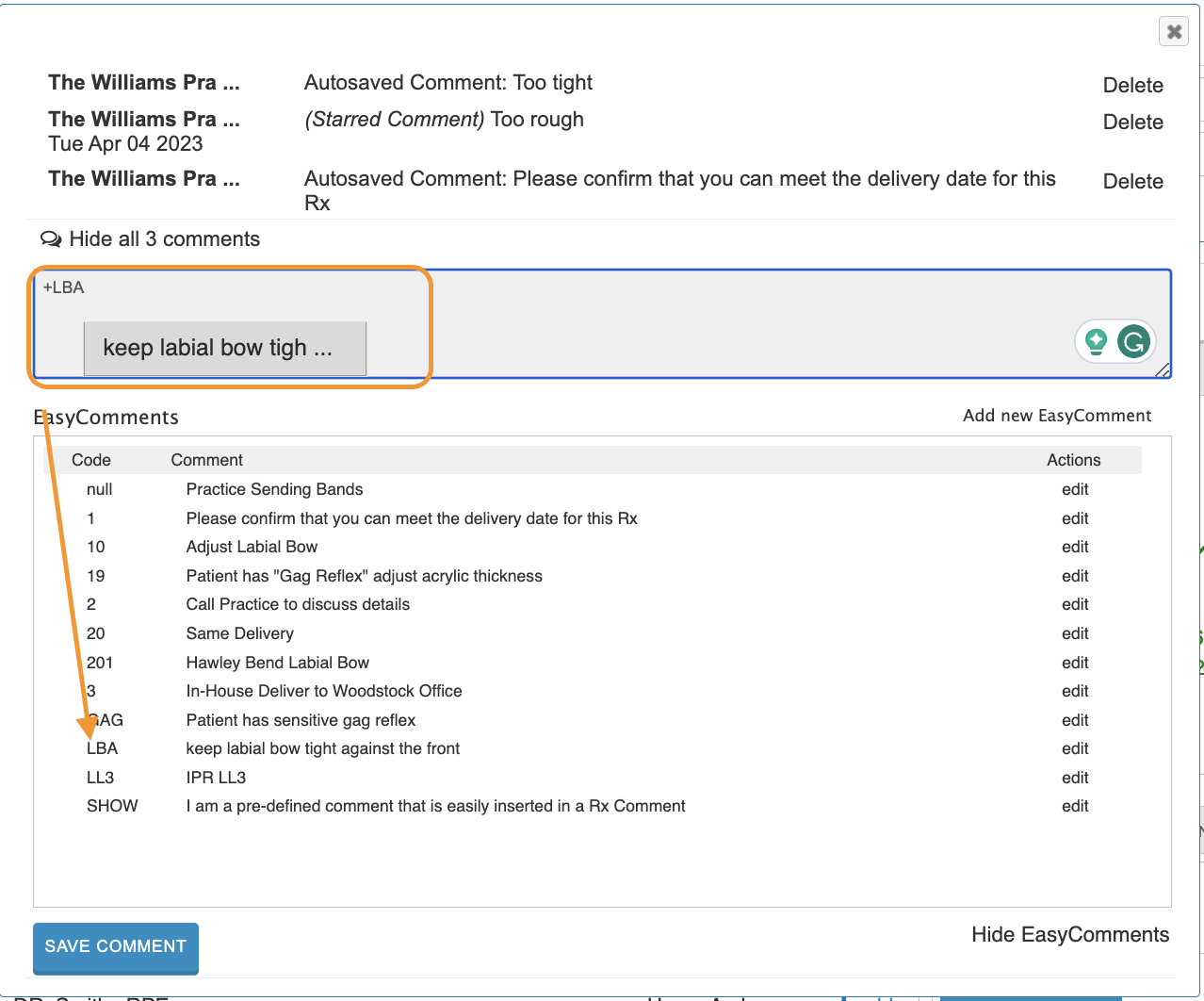 EasyComments can also be setup via [Account Settings], then scrolling down to [EasyComments] section.

You can create a new EasyComment or review any existing EasyComments by editing or deleting them on this page.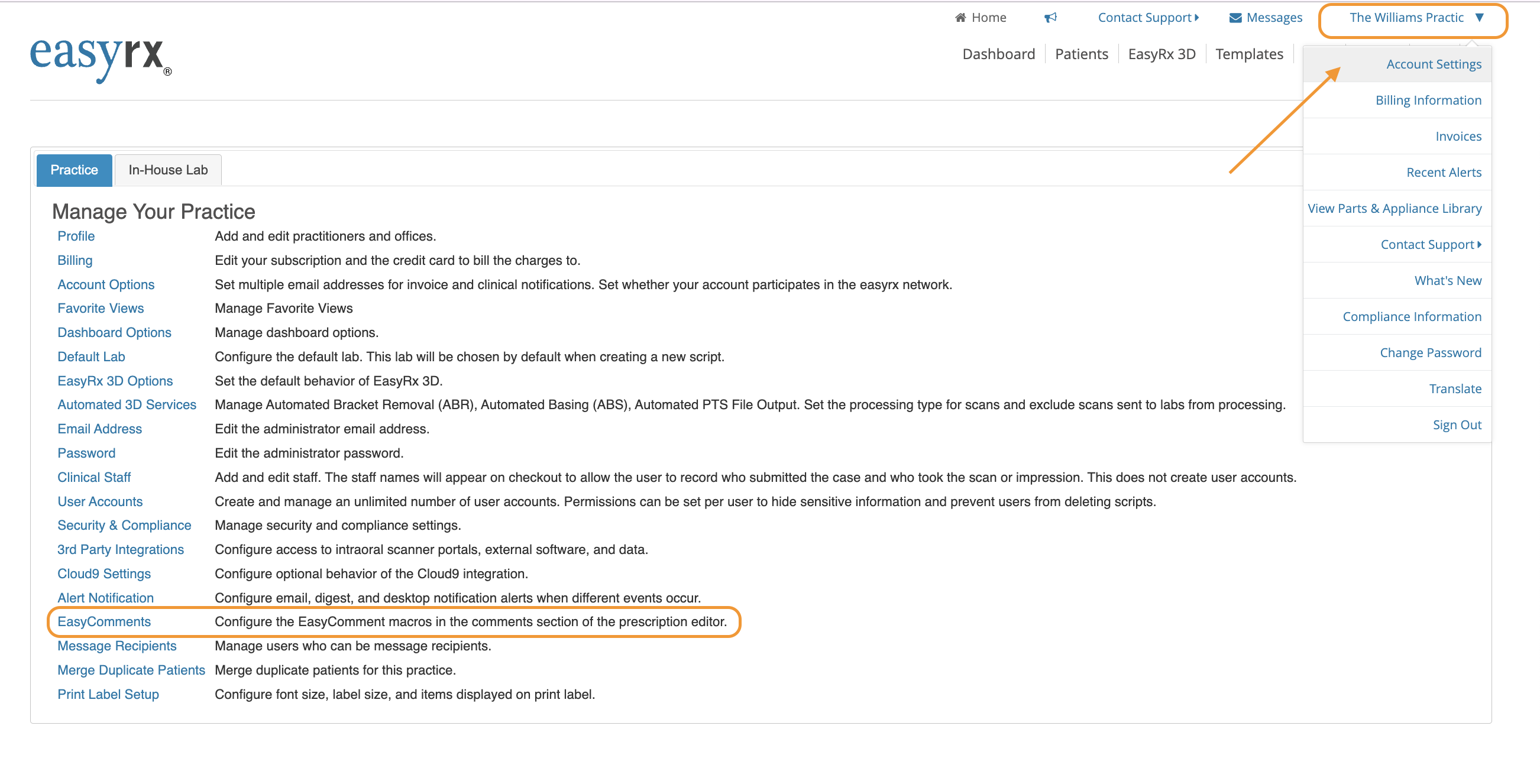 NOTES:
We've also added a new permission setting in the [User Accounts] where you can allow or disallow your other staff members to have the ability to edit/add new EasyComments. This security right can be found in the User Accounts setting on your Account Settings page.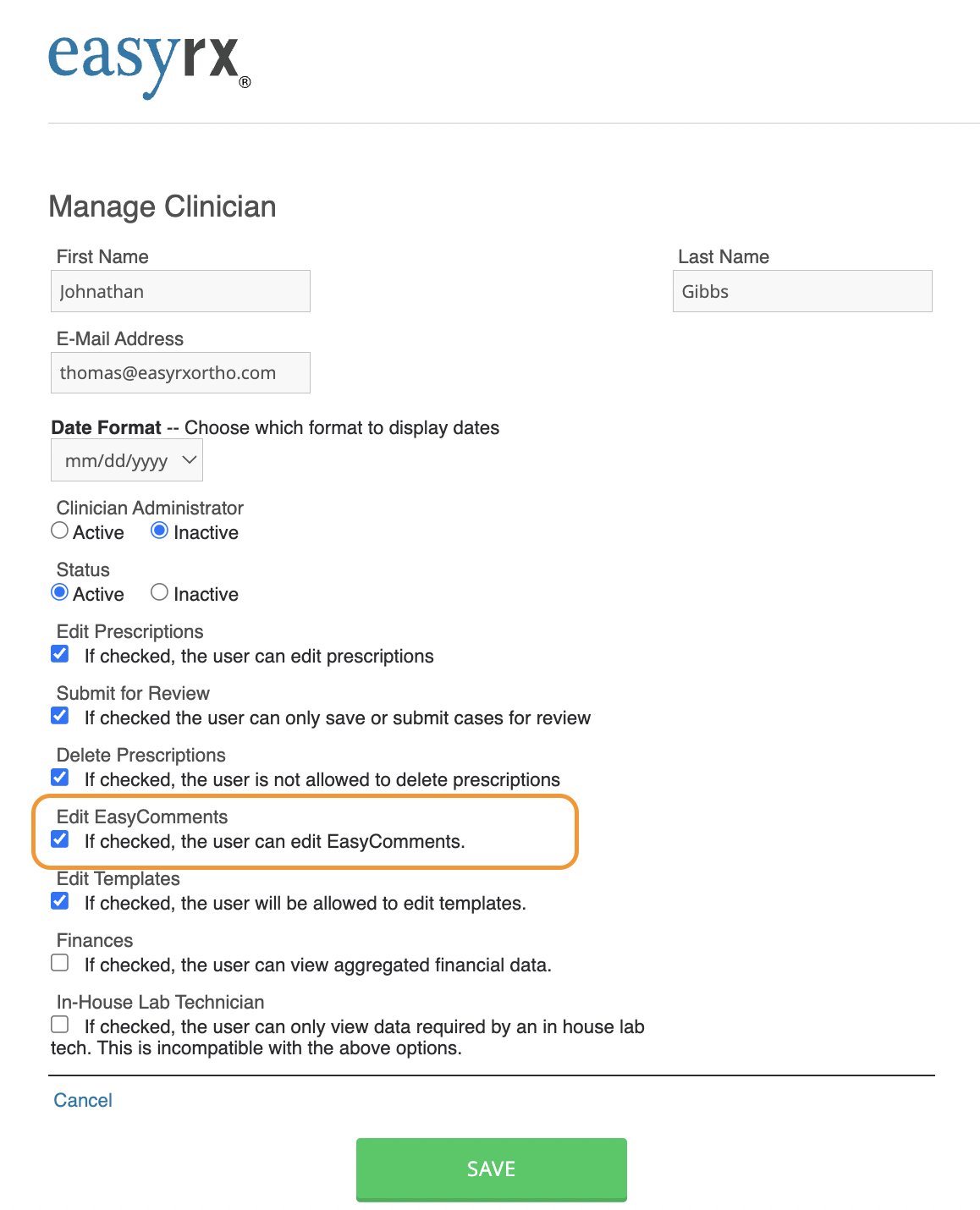 On any New, Saved or Submitted Rx, click [Comments] to add EasyComments
If you add a comment to a prescription already submitted to your lab, they will normally get a notification or alert (depending on their Alert Notification settings) that tells them you have added new comments to an existing case.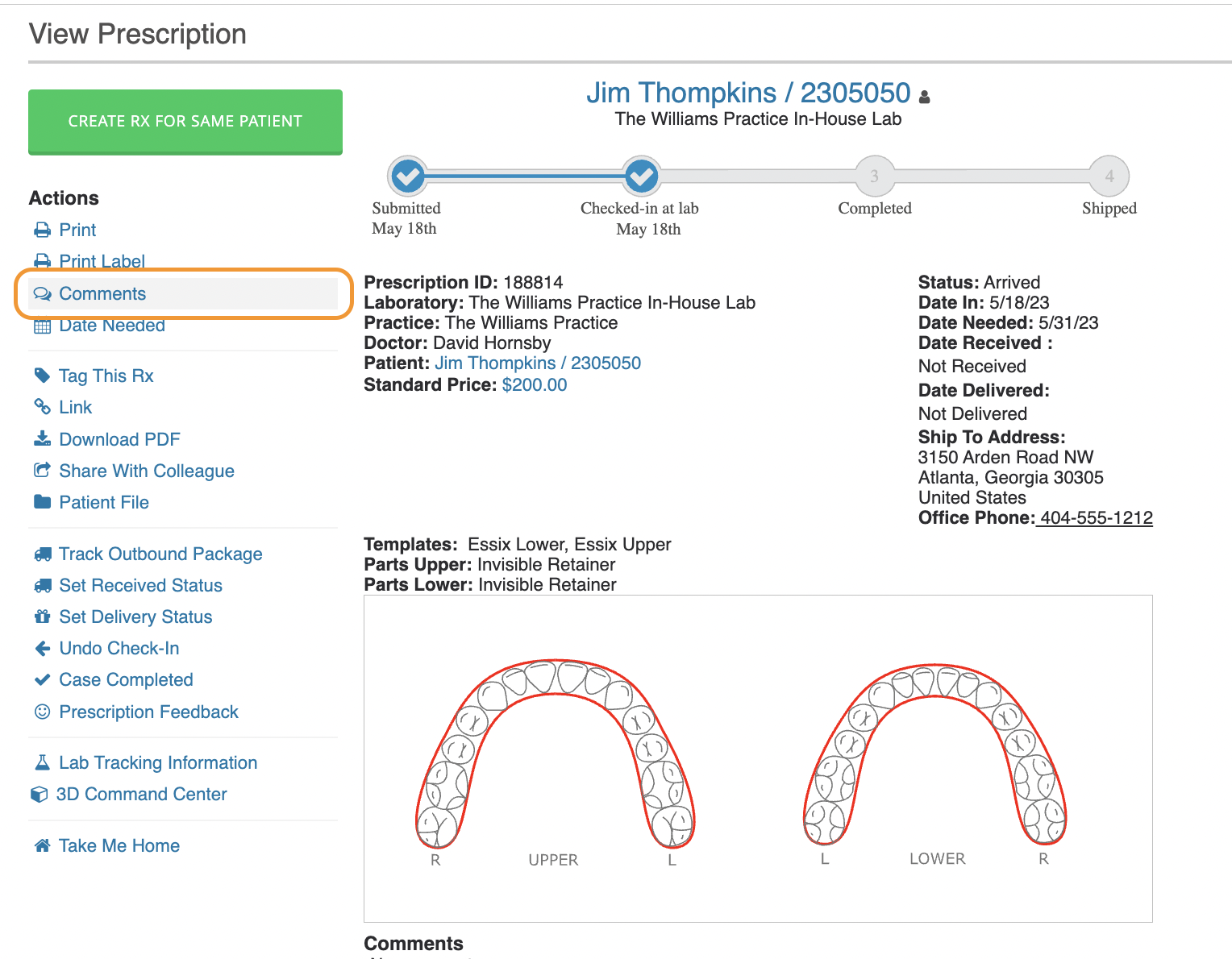 We think this should easily (get it?) help you add comments to prescriptions. Try it out!

Time Needed field added to Rx
When creating a prescription in EasyRx, you can set an optional [Time Needed] field. In addition to telling your lab what date you need your RX, you can specify a time for that day you'd need it by.

You can click [Enter Time Needed], which will allow you to set a time that you'd like the Rx back by. The time is chosen by drop-down boxes. You can choose an hour, minutes, and an AM or PM designation. For minutes, you can only choose 15-minute intervals.




NOTES:
It is not required to enter a Time Needed. If no time is entered, only the Date Needed displays and prints.

Practices: User Accounts can now be configured to enable or disable the ability to edit/add templates
EasyRx Practice Accounts can now add a new permission setting to their User Accounts. When creating or editing a User Account, your EasyRx administrator can check a box allowing the user to edit templates in your EasyRx account. Leaving the box unchecked will not let the user edit or create new templates for the practice.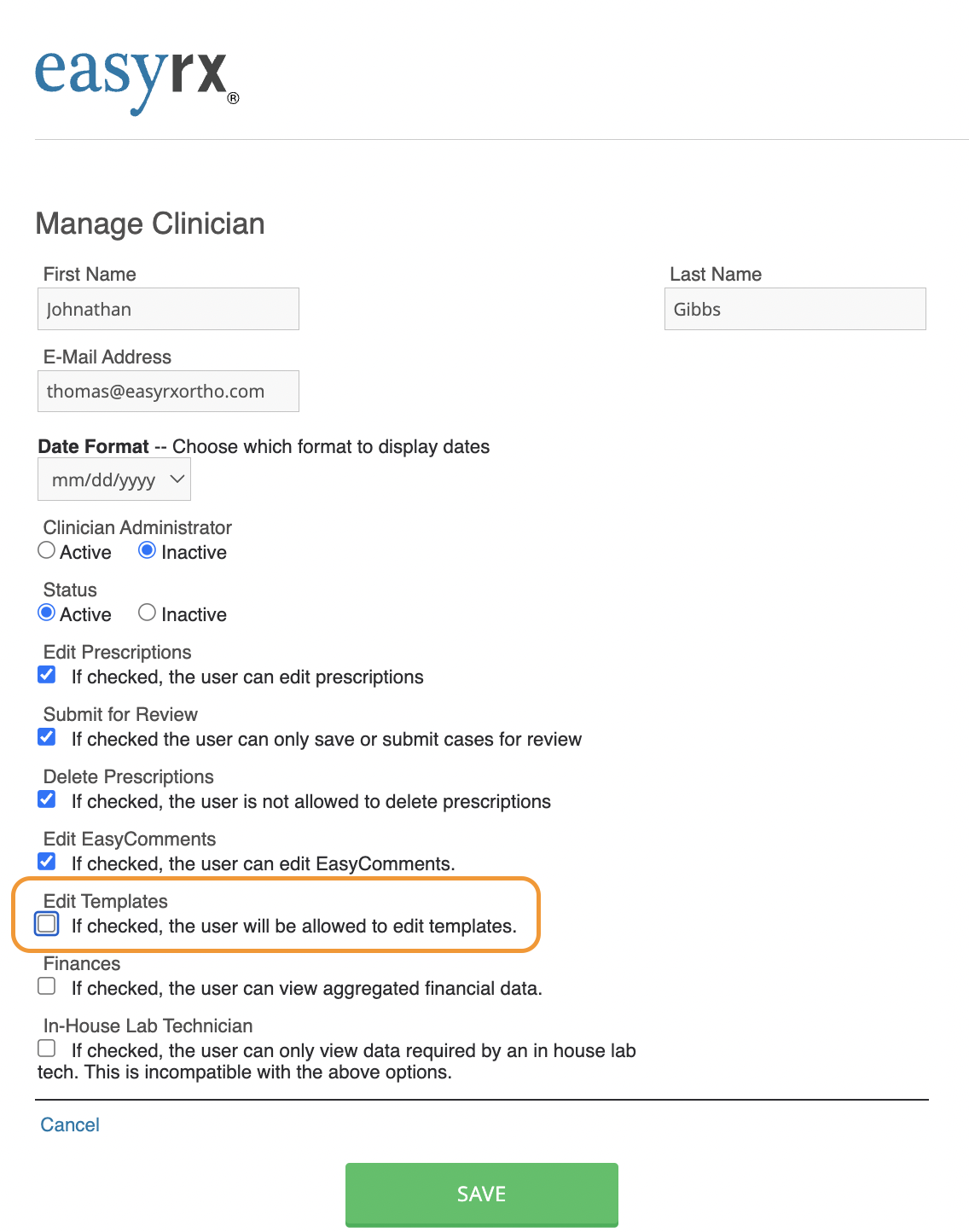 Here is an example of a User Account that is logged in that does not have permission to edit templates. This is what they will see when accessing the [Templates] page. Notice they will not see or be able to click on the [Edit] button next to any templates.


This will help keep your templates stay untouched and prevent accidental changes from User Accounts that normally login to your Practice's EasyRx account.

If you are not familiar with User Accounts, we encourage you to check out this neat guide that explains how it works.

On Scripts Page - Search now searches all Prescriptions
We've reorganized the Scripts Manager to show all prescriptions by default, allowing searches to search your entire prescription history by default. If needed, you can load the last three or six months of prescriptions. If one of these time frames is chosen, Search only search these time periods. Thanks for the customer feedback on this request.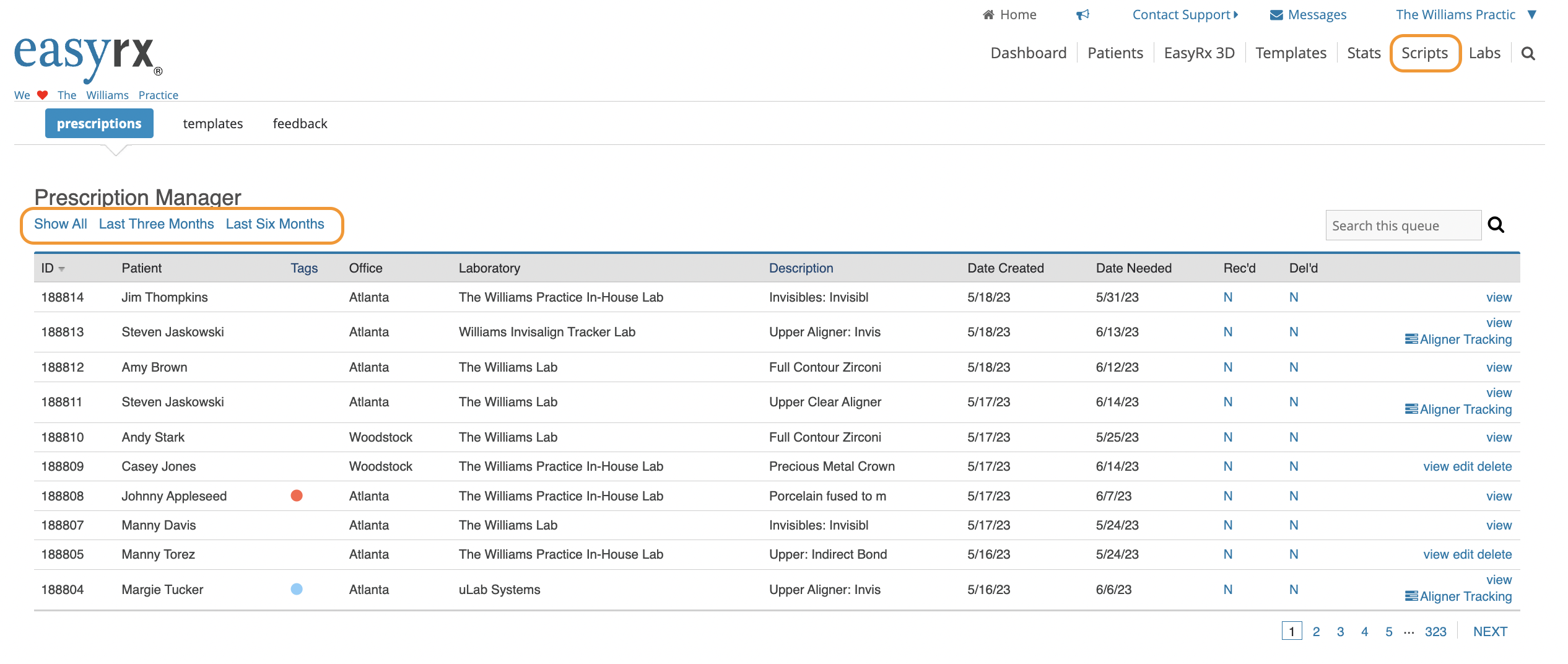 Event Notifications / Recent Alerts page now includes Date Filters
With the addition of our cool Alert Notifications feature from last month, we decided to add a Date Range filter on the Recent Alerts page. Here you can quickly filter a filter to see what important events happened for that day. We highly suggest you check out the Alert Notifications tutorial on how it can help your lab / practice stay on top of your EasyRx case activity.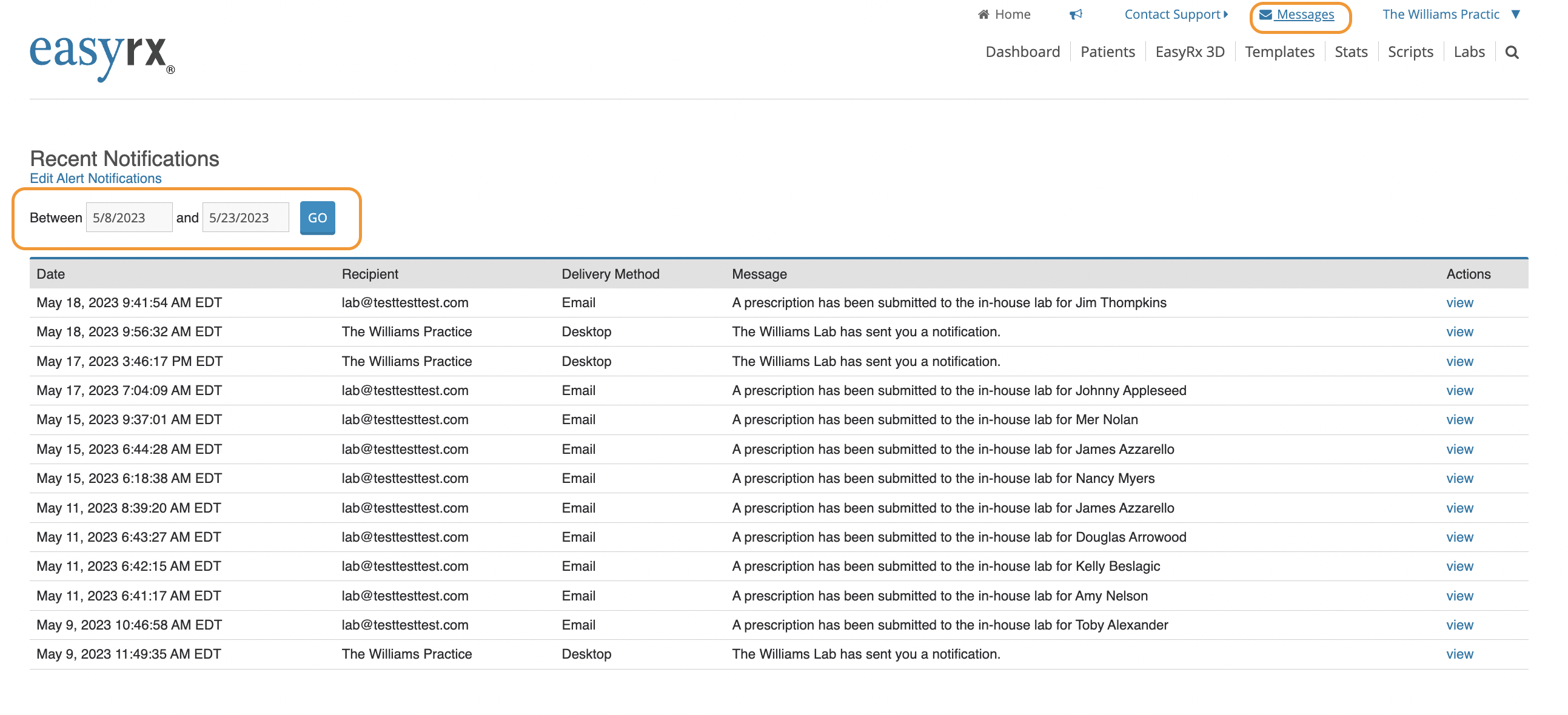 New Parts and Appliances added:

Thanks again to our awesome customers for requesting us to add a few new parts and appliances into the EasyRx library! Click here for a full list of recently added parts / appliances.




Flip Lock Type 2 appliance can now be modified to eliminate lower lingual holding arches on lower 6s.

Users can click on the lower Flip Lock Type 2 appliance, moving the LLHA's position from the 6s onto the 4s.

--after moving LLHA 6s to 4s-->
New teeth positions available for Headgear Tubes: Headgear Tubes can now be placed on the 4s and 5s, in addition to the 6s and 7s.

We've also renamed the existing part,

Hanging Clasp, to

Hang Clasp

as a name correction.

New EasyRx Connected Labs recently added!
We welcome a handful of great labs that are now EasyRx Connected and ready to accept your cases.

AccuTech Orthodontic Lab

Olympic Orthodontic Lab

Clear Advantage Dental Lab (CADL)

Orthotek Inc. (Bellavue, WA)

Dobson Orthodontic Lab

Parks Dental Orthodontics Lab

Summers Dental Lab (Logo pending)


We are proud to announce we have 30 labs now accept cases from EasyRx.

You can see them showcased on our EasyRx Connected Labs page on our website.
Related Articles

What's New September 2017 - Monthly Software Update and Newsletter

Vacations? Who need's em when you can work on EasyRx!? We worked hard this summer adding new features and enhancements to EasyRx, adding new practices and new EasyRx Connected labs and generally having a grand time. Welcome to the "What's New ...

Recently added Parts and Appliances in EasyRx

We are continually updating the the EasyRx Universal Library of Parts and Appliances. As new parts or appliances are added, we'll update the list here. For Practices: New parts are active in the EasyRx Universal Library of Parts and Appliances and ...

What's New in November 2015 release

Outlined below are the exciting new changes to EasyRx. These changes will be posted the evening of November 20, 2015. The EasyRx team. General Updates We're re-branding our products as EasyRx Practice and EasyRx Lab There are three Practice ...

What's New in January 2016 Update

The January 2016 includes these new enhancements and features to EasyRx EasyRx -- Xero Integration We've integrated EasyRx with Xero, the accounting system used by EasyRx. This integration allows invoices and payments to automatically process based ...

Changes and FAQs to Prescription Templates in November 2015 update

In the EasyRx November Update, we made a number of changes to how templates work. The goal these changes were to give both labs and practices more control over who can access and edit templates. Here's the changes from our November update: Practice ...